Professional Development for Teachers
Domabotics runs a range of workshops for teachers to assist them to integrate Information and Communication Technologies into their class.
Small class sizes and hands-on activities enable participants to get a real feel for the technology, giving them the confidence necessary to successfully run activities back in class. We provide continuing email support to all participants to assist them integrating their new-found knowledge. All classes are tailored to suit the abilities of the teachers, from the absolute novice through to the seasoned veteran.
Our workshops run predominantly in Queensland, Australia but also run through Australia and Internationally. We have worked with various Education departments training teachers as well as developing curriculum material.
Workshops cost $275+GST per Teacher and run from 9am - 3pm.
Term 1 /2 - 2017 Workshop Dates
Rockhampton - Download a flyer

Rockhampton: 14th March - Beyond the Basics: EV3

Rockhampton: 15th March - Intro to Scratch Programming
Adelaide - Download a flyer
Adelaide: 21st March - Introduction to Robotics: EV3
Adelaide: 22nd March - Beyond the Basics: EV3
Adelaide: 23rd March - Intro to Scratch Programming
Brisbane - Download a flyer
Brisbane: 22nd May - Introduction to Robotics: EV3
Brisbane: 23rd May - Beyond the Basics: EV3
Brisbane: 24th May - Introduction to Arduinos
Cairns - Download a flyer
Cairns: 14th June - Introduction to Robotics: EV3
Cairns: 15th June - Beyond the Basics: EV3
Cairns: 16th June - Intro to Scratch Programming

Are you interested in a workshop in Townsville, Cairns or another venue? Contact Me and register your interest.
Do you want to be kept up to date with workshops being run by Damien Kee?
Workshop Outlines
Robotics (LEGO MINDSTORMS EV3)
Find out how to excite and inspire your students and discover how to integrate robotics into your curriculum. Learn practical ideas and activities to run in your classroom using the latest LEGO Mindstorms system and discover why robotics is fast becoming a major tool in the teaching of the Technology, Maths and Science. Two workshops are available, Introduction to Robotics: EV3 (perfect for those with limited or no previous experience) and Beyond the Basics: EV3 giving teachers more skills to take their class further.
If you are unsure which robots you have at your school, please don't hesitate to ask!
Scratch Programming

Scratch is a programming language that makes it easy to create your own interactive stories, animations, games, music, and art. As young people create and share Scratch projects, they learn important mathematical and computational ideas. Students also learning to think creatively, reason systematically, and work collaboratively. This introductory course covers the basics skills necessary to run Scratch activities within your classroom. Scratch is a free download, available at www.scratch.mit.edu
**No prior programming experience necessary!**
Introduction to Arduino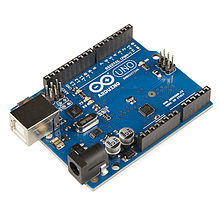 Arduino is an open-source electronics platform based on easy-to-use hardware and software. Arduino boards are able to read inputs - light on a sensor, a finger on a button - and turn it into an output - activating a motor, turning on an LED. You can tell your board what to do by sending a set of instructions to the microcontroller on the board. **No prior experience necessary**
---
Flexible on-site training half-days
The demand for teachers time is every increasing and to accomodate this, whilst still giving teacher the chance at valuable Professional Development, Domabotics is offering flexible on-site training sessions. These sessions run for 3 hours, at anytime during your school day up to 4pm. Teachers and drop-in and drop-out as necessary to meet their teaching workload. Content for the session could concentrate on one topic, or could be broken into a variety of topics to suit your staff.
Introduction to Robotics
StopMotion Animation - SAM animation
Robotics for Early Years
Using Google Earth across multiple curriculum areas
Google Sketch-up for design and creation
Create your own podcasts in class - Audacity
Photo Story - Create beautiful slide shows