Exploring our Coral Reefs - LEGO WeDo and Animal Set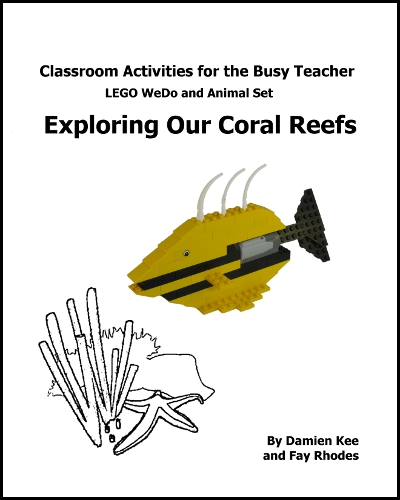 This book utilizes both the LEGO WeDo and LEGO Animal sets to build a series of fun, interactive and engaging creations. Included are a variety of activities such as research assignments and creative writing opportunities based around the theme "Exploring Our Coral Reefs".
Student worksheets and full color building instructions are included to save time and help the teacher get their class up and running as quickly as possible.

Physical Book - US$24.99
58 pages, full colour


eBook PDF format - US$10.00
Table of Contents
Introduction

LEGO 4 C's Approach
Classroom management

Connect: Setting the Scene
Create: Build it!

Creative Writing Assignment

Contemplate: What have we learned?
Continue: What Next?
Student Worksheet
Building Instructions – Scuba Diver
Building Instructions Tropical Fish
Building Instructions Manta Ray
Building Instructions - Sea Turtle
WeDo Backgrounds and Sounds
Story Board
Coral Reef Vocabulary
Standards relating to this Unit