December 12, 2017
|
in
Robot Projects
| |
by Damien Kee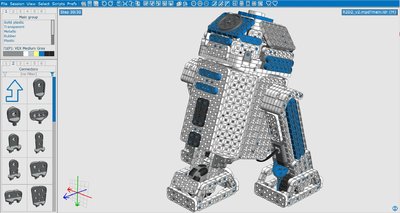 Backstory
At the VEX World Championships in 2016, I was really lucky to have the opportunity to drive around Steve Hassenplug's full sized VEX R2D2. As I was doing it, I was amazed at how everyone knew R2 and wanted to interact with it. I've always loved R2 from the Star Wars movies, and so in the back of my mind I've always wanted to build my own version. Fast forward a few months and I had a bit of downtime with work and so built my first version. Unfortunately I didn't have a wide selection of colours and so my first version came out predominantly grey.
It got a lot of positive comments from plenty of people so I figured I do a version 2, in the right colours :)
Version 2 was really well received and I got so many requests for building instructions! I drove him nearly non-stop throughout the entire 2017 VEX World Championships and it was so much fun to watch everyone interact with such a great little droid. I had a request for R2 to be displayed at an interstate conference so I packed it up in plenty of bubblewrap and then waved goodbye as the couriers collected the box. Unfortunately disaster struck and R2 never made it to the conference and disappeared somewhere enroute :(. A few weeks of frantic calls from the organisers and still no luck in locating him :(
So on to version 3, and this time I decided to design in LDCadVEX first, based on photos and video I had of Version 2. I was travelling for work so holed up in a hotel for a few nights in a row and managed to get 80% of the CAD model done in that time. With the help of the awesome Andreas Dreier (vexiq.dreier-privat.de/projects/r2d2/r2d2.html) and Steve Hassenplug (teamhassenplug.org/VEX/R2/), they took the CAD model with my crude step-by-step breakdown and turned it into a series of Building Instructions that anyone can follow. Having a few sets of eyes go over my original design was fantastic, with both Steve and Andreas often suggesting changes here and there to make the instructions easier to follow and a better model in the end.
Rogues' Gallery
Have you built your own VEX IQ Astromech Droid? Please send me a photo, I'd love to see what you've come up with and add your version to our little gallery.
Build your own
If you'd like to have a go at building your own version, you can download the instructions here. Be warned, it's not the easiest build and you'll need a standard VEX IQ kit as well as lots of spare parts. If you're missing a particular part, that is an awesome opportunity to flex your creative/engineering mind and come up with a work-around. If you do come up with something clever, please let me know about it!
Download R2D2 Build instructions here - VEX_R2D2_BI.pdf
Technical Specs
36cm Tall (1/3 Full size)
1 VEX IQ Brain
3 Smart Motors (left / right leg and head
Unpowered Omniwheel for the front foot
1 TouchLED
650+ pieces (300 of them are pins!)