April 29, 2015
|
in
EV3
| |
by Damien Kee
I work with a lot of students throughout the year and it is not uncommon to have a student in a wheelchair in my workshops from time to time. While the vast majority of my activities take place on classroom floors, I'll quite happily modify the activities to make sure that everyone is included. Usually this means setting up masking tape mazes on table tops rather than on floors so that student in wheelchairs can also participate.
The Wave activity (easily my favourite activity) is a little trickier as we need to line up all the robots on the floor. This would normally mean the wheelchair student has to get another student to start their robot so I've taken to including a few extra parts in my workshop kit to help out. This little extension uses a Touch Sensor mounted as high as possible and by putting this robot on the end of our Wave line the wheelchair student can still reach the button.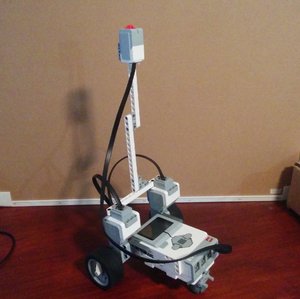 I then go to their program and inset a 'Wait for Touch Sensor' block at the very start. We start their program normally while they're holding it, and then place it in the line along with everyone else's. Rather than having to press the center button of the EV3 (which is incredibly low to the ground, they can just press the Touch Sensor which is at a more reasonable height.

I got this really nice email from the classroom teacher which absolutely made my day :)
Thank you so much for being so accommodating today with the young man in the wheelchair. His mother is so grateful and asked me to convey her thanks and gratitude. Often we do things that seem no trouble, like you did today, yet to another person it means the world and brings so much happiness.