What is Greenscreen-ing (or Chroma-keying)?
Think Superman.... How do they get Superman to appear to be flying through the sky. Basically they film a sequence of just the sky and then film another sequence of superman 'pretending' the fly. They lie him down on a set that is all green (or other solid colour) and he waves his arms and pretends.
To overlay Superman on the sky sequence, they digitally remove all the green pixels in the shot and make them transparent. That way you can see the sky scene happening behind Superman.
Wikipedia has a far better explanation than what I can manage - http://en.wikipedia.org/wiki/Greenscreen
Yes there are great software packages out there that handle it beautifully (Final-Cut, Adobe Premiere, Vegas Studio) but I was looking for a cheap way to get up and running, especially with schools that have such limited budgets.
Hardware
Green Screen
Any solid colour backdrop is fine. I've seen plain sheets hung up on pin boards, green cardboard taped to the walls and beautifully painted green screen rooms in a lot of new schools.
I personally use one of these - AUD$150 and folds up nicely when it needs to be stored away.
http://www.ebay.com.au/itm/Chromakey-Green-Video-Screen-Backdrop-Background-Cotton-Muslin-2-8x3m-Stand-kit-/251115950649
Lighting
Lighting is important, and you want to get the green (or what ever solid colour you're using) as evenly lit as possible. You can spend as little or as much as you want, but if you're keeping it cheap, I recommend three desk lamps. Two pointing at the greenscreen to eliminate any shadows from wrinkles etc, and one lighting your subject.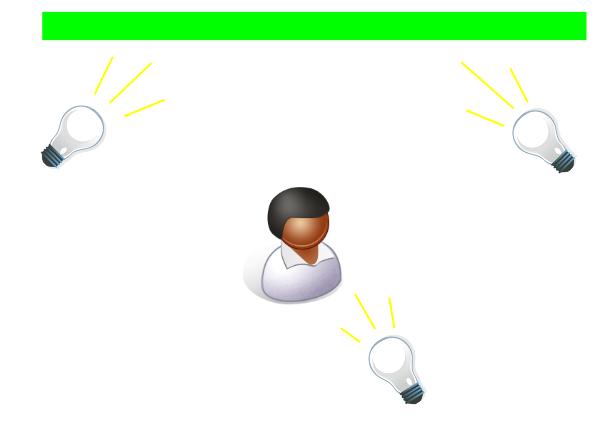 Camera
Just about anything will do here and I'm a big fan of 'use what you've got'. I've used my smartphone, webcams and those little flipcams as well. The emphasis here is that you don't need something fancy to get started.
Software
In keep with the budget theme, I only use free software. This means a teacher is more likely to 'give it a go' and keen students can continue working on their projects at home without the need for costly licences.
Any Video Converter
http://www.any-video-converter.com/products/for_video_free/
Use this software to convert just about any video format into the required AVI format that Wax (see below) needs.
In the Output Profile I choose - Video Files -> Customised AVI Movie. Feel free to play with the settings if you want, but I find the defaults work fine.
***IMPORTANT*** I had major issues trying to get the audio to work with Wax but eventually found that the audio needed to be set as PCM.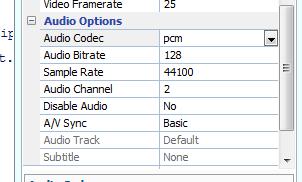 Click 'Add Video' to find your clip. Then 'Convert Now!' to convert it. As simple as that :) Once done it'll show you where the converted file is kept. Mine defaults to the My Documents/Any Video COnverter/AVI folder.
Wax2.0
http://www.debugmode.com/wax/download.htm
This is the software that will do the actual Greenscreening. At the bare minimum, you'll need 2 clips, one with the background image/video and the video with the subject in front of the greenscreen.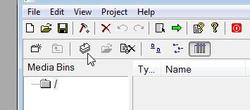 Click 'Add Media' and locate your two clips. Wax splits my AVI's into a video track and an audio track (if it exists)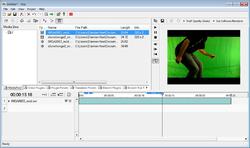 Drag the greenscreen clip onto the timeline.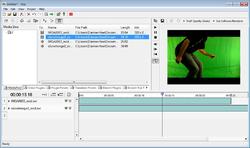 Drag the background clip onto the timeline, underneath the background clip.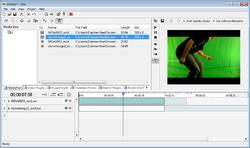 Trim clips as necessary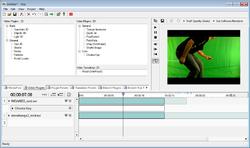 Go to Video Plugins, click and drag the Chroma Key plugin and place it between the two clips on the timeline.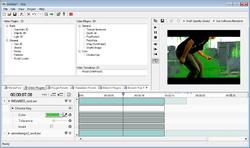 Expand the Chroma Key properties. The default is to remove all the blue pixels. Not what we want, and even if you did have a bluescreen, the chances of it being the right shade of blue are slim. Click the eyedropper and then head over to your preview image. Click on a spot of geen, somewhere in your video. Try and find a middle green, inbetweent the lightest and darkest green that you have.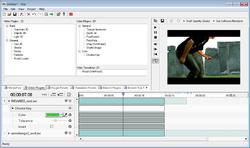 Back to the Chroma Key properties. Find the Threshold slider and move it back and forth. This setting tells wax how specific the green needs to be, to be removed. The more you slide it to the right, the more lax Wax is in getting the 'exact' shade of green. Fiddle with it until you're happy.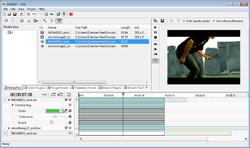 Go back to the Media Pool and drag any audio files on to the timeline underneath the two clips. **IMPORTANT** You don't hear any sound in the preview window (at least I never do). Once you've rendered, the sound is back in again.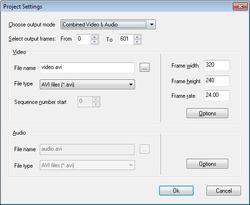 Click F3 to go to the settings. Set a file name and location for yout output clip. Make sure the .avi extension is included (otherwise you get an error about frame size being a multiple of 4)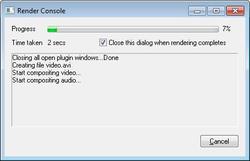 Close the settings and then press F7 to render your video. All things going to plan, you'll have your final video ready to use.
Windows Movie Maker
Wax is great for the Chroma Keying, but a little difficult to wrap your head around to do more complex things. When working with kids, I generally flick across to Windows Movie Maker to do things like clip transitions and adding title pages / credits. Not the worlds greatest software but just about every teacher and school I know has it installed :)
So what do we do with it?
Weather forcasts
New reports
Travel destination reports
Book reviews
Creative storytelling
How do you use it? Let me know in the comments below.
Other Resources
Xvid Codecs: My projects needed them, your milage may vary
http://www.xvid.org/Downloads.15.0.html
My Big List of Creative Commons and Public Domain Media Websites
My Test Footage (This is an example of a poorly lit Greenscreen clip. You'll find it impossible to remove all the green from the clip)
Video Editing with Wax 2.0: A website that is filling up with tutorials on how to use Wax2.0