Damien Kee is an independent technology education expert, who specialises in bringing technology concepts to teachers and educators around the world. Focusing primarily on Robotics, and with a strong interest in other areas of Technology Education, he works to educate teachers on the benefits and relative ease with which technology can be embedded into their daily classroom activities. His workshops for teachers and students have been run internationally and extensively throughout Australia.

Damien is also involved with multiple organisations that help bring robotics and technology into the classroom including RoboCup Junior and The NXT Classroom.

Damien is the editor of the highly popular www.theNXTstep.com, one of the largest blogs dedicated to the LEGO Mindstorms system. He is also a member of the LEGO Mindstorms Community Partners (MCP) a group collaborating with LEGO to develop and test new ideas, concepts, prototypes and products.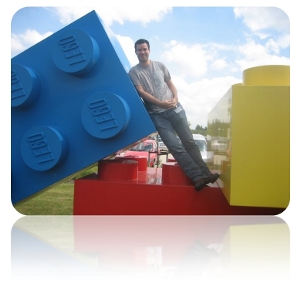 Damien lives in Brisbane, Australia with his wife and son. He received his Bachelor of Engineering (Electrical) in 2001 and his PhD (Robotics) in 2007 from the University of Queenland. Damien became involved with Educational robotics in 2000, when the RoboCup Junior competition was established in Queensland. Since then he has been heavily involved, running the National competition in 2007, serving as Chairman of RCJ Australia in 2010/2011 and being on the committee (RCJ Rescue) for the International competition(2009-2012). Damien's workshops are extremely popular, and have run in a wide variety of locations from remote locations such as outback Queensland to Singapore and Amman, Jordan.